We are spending our third night near the village of Leading Tickles, on the north coast of Newfoundland. Our campsite is less than 100 feet from the ocean surf, which should lull us to sleep tonight. It's the nicest of the three places we have stayed. (A Tickle is Newfoundlandese for a small, narrow strait, we found out.)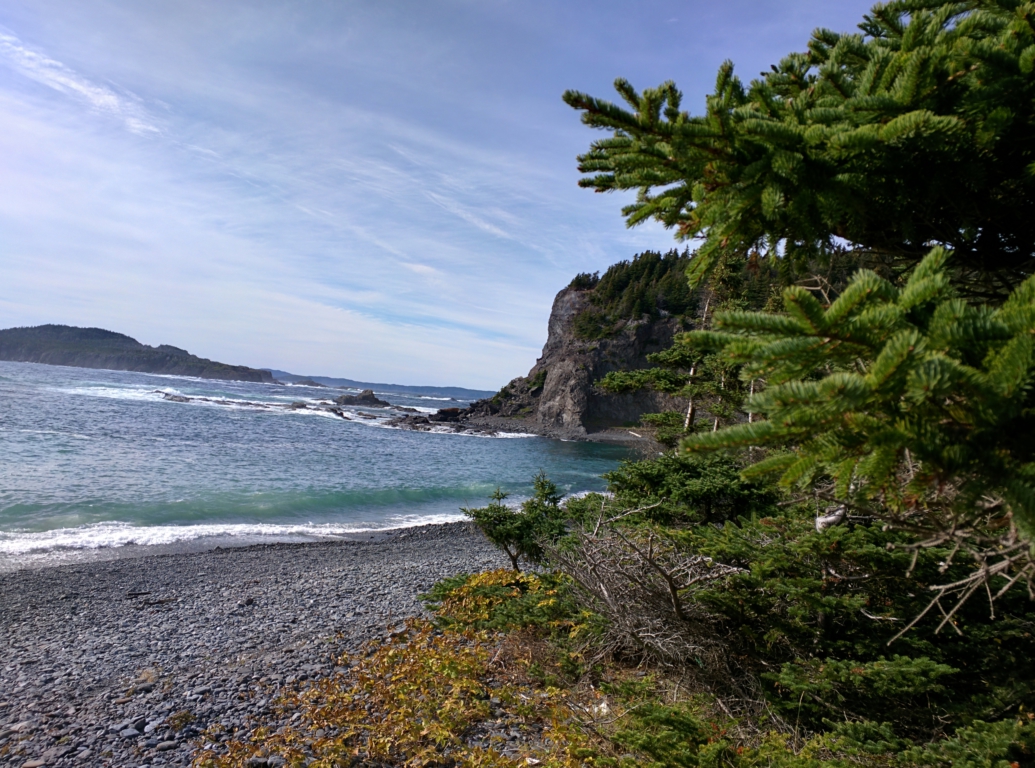 On the first night we just pulled off the road near "Came-by-Chance" by a historical sign and dry camped; no water, electricity or sewer hookup. But our RV is self-contained so it was no problem. The second night we stayed in a very nice RV park in Grand Falls-Windsor, with plenty of trees and lots of room between campsites and with full hookups. But tonight by the sea is the nicest by far, and we will probably stay another night.
We didn't realize when we planned this trip that Canada celebrates Labour Day the same day that we do, so many of the RV parks we called were booked full. We have been lucky to find the ones we did. After tonight it should become much easier as people go home and back to work. On the other hand, the hostess of this park told us that she is closing for the year after tomorrow, so there may be fewer options.
On the first day in St. John's we stood on the hill where Marconi received the first trans-Atlantic radio transmission. Trans-Atlantic meaning from the island of Ireland to the island of Newfoundland; kind of cheating but still a big accomplishment. (Would Iceland to Greenland also have qualified as trans-Atlantic?) It was believed impossible at the time because of the curvature of the earth; they didn't think the radio waves could bend around the corner. That was before the discovery of the ionosphere which acts to bend or reflect radio waves and allow them to travel long distances over the horizon.
We are slowly making our way towards a ferry boat reservation on the 11th that will take us to Nova Scotia, but first have two nights reserved on the 9th and 10th in Gros Morne National Park, reportedly the nicest park in the province.
We found a little bit of an explanation for the half-hour offset of clocks on the island. They are located in what would be the far eastern edge of the time zone and many years ago decided to shift by a half hour. In the 1960's there was a ballot proposition to shift back to the hour, in sync with the rest of the world, but it was strongly defeated. I think part of it is that they enjoy being different and special. Otherwise, a half hour doesn't really make that much difference.