Hangzhou is a medium sized Chinese city of about 10 million. We spent two weeks there recently on a stay arranged by Gisele's sister Angela.
Click on any picture for a larger version.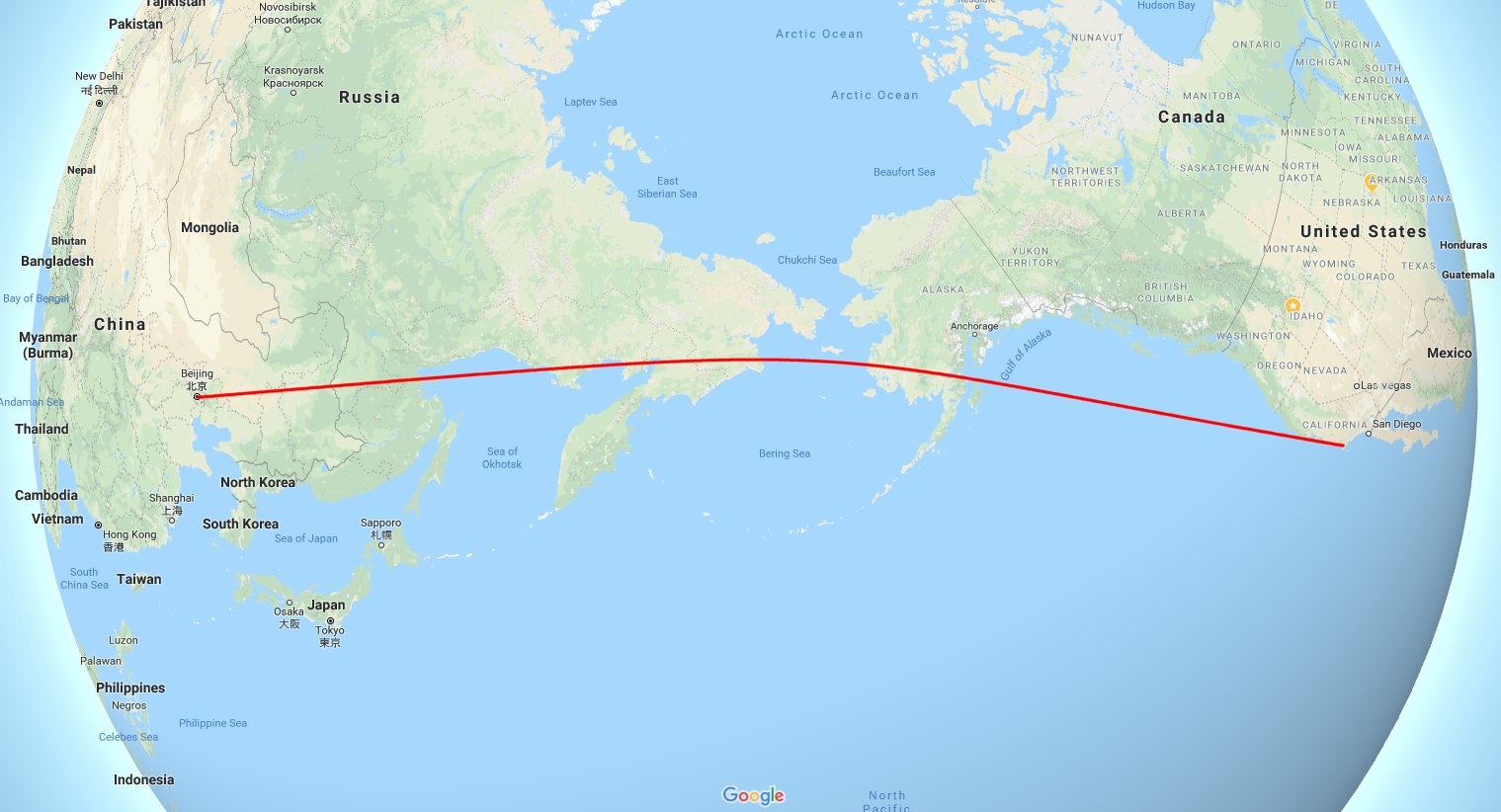 The flight from Los Angeles to Beijing went over Alaska and Siberia. (Actually the Great Circle crosses over the Alaskan peninsula and the Kamchatka peninsula, but for some reason the flight went well north of that path. Could be weather, winds or political.) Hangzhou is south of Beijing, near Shanghai.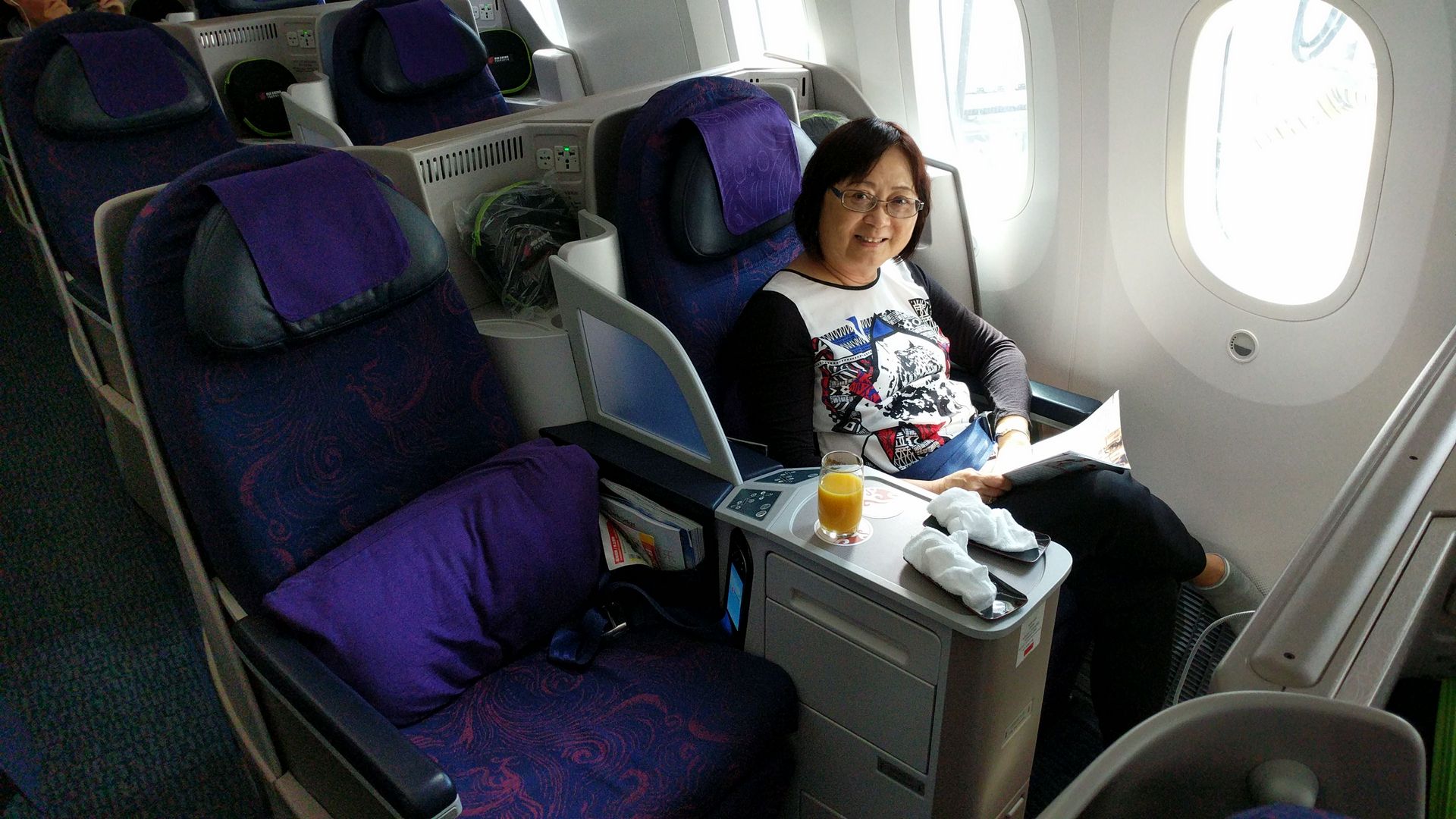 Air China's business class seating is quite nice. Gisele had to climb over me to get out when I was fully reclined, but otherwise pretty good. The food was excellent. This made the 12-hour flight endurable.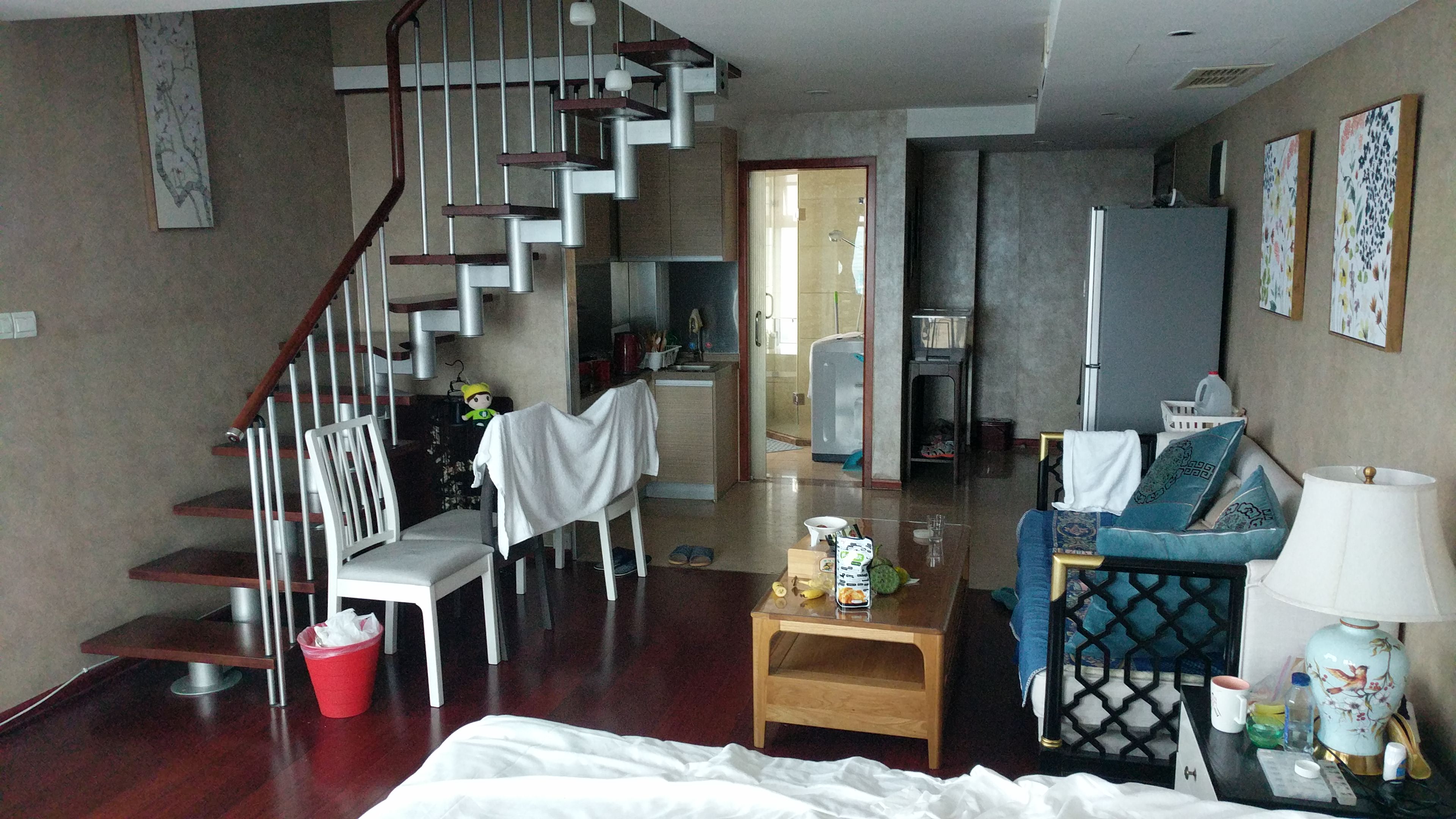 Gisele's sister Angela arranged for this apartment, where we stayed with Angela and Gisele's brother TaChuan. Gisele and I had our own room upstairs, but Angela slept in the main room downstairs (you can see the corner of her bed at the bottom of the picture), TaChuan slept in a nook upstairs, and we all had to share a single bathroom. That's my bath towel hung over the chairs — there weren't enough towel racks in the bathroom for everyone. At least twice I had to ask Gisele to bring my towel to me as I forgot to take it in when I showered!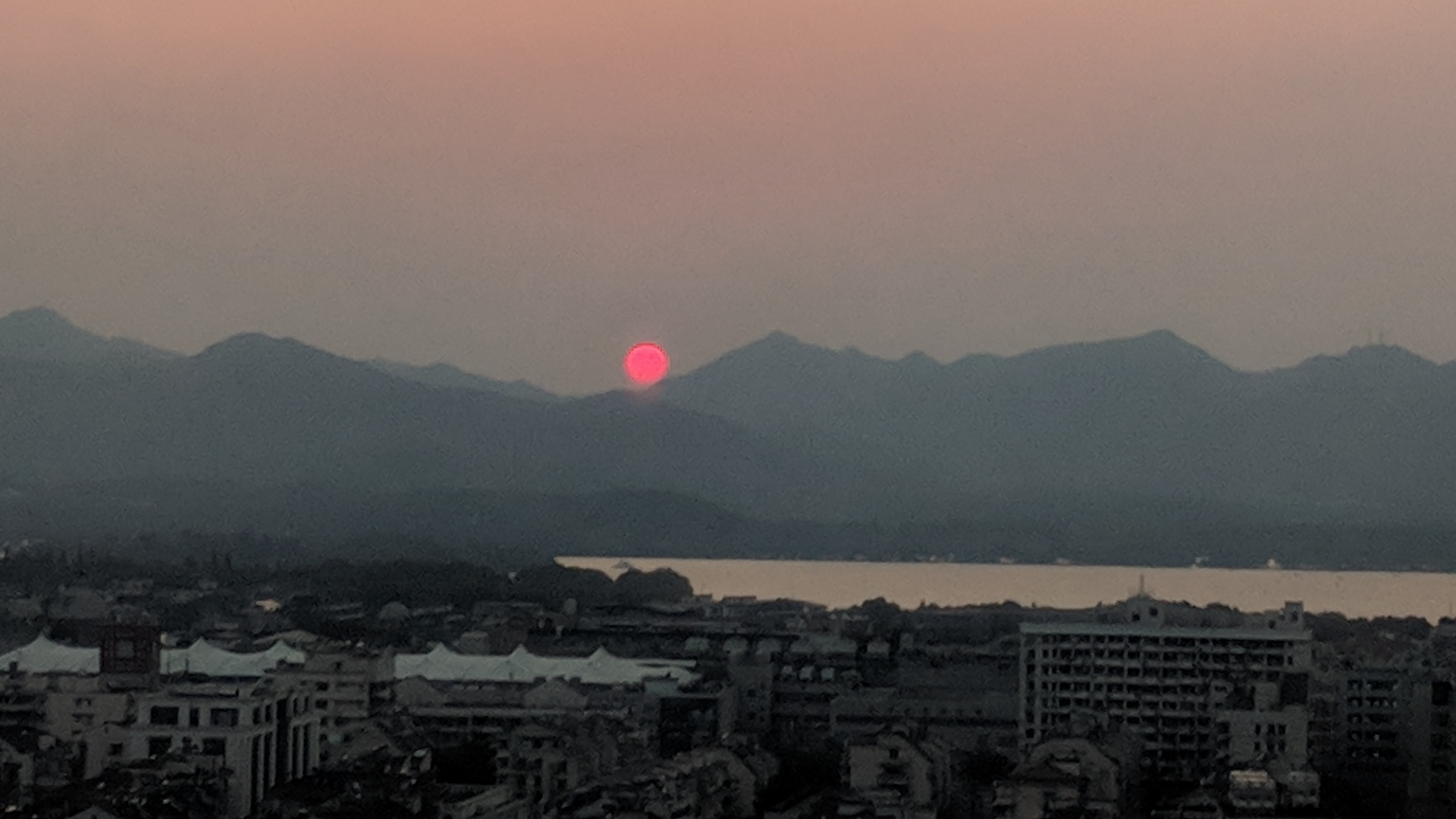 The apartment was on the 17th floor giving us some nice views of the city. This was sunset on our first or second day. The sun really did look that red. You can see West Lake, famous throughout China with lots of history. There is a green belt all around the 2-mile diameter lake and it is very popular to visit for both residents and tourists.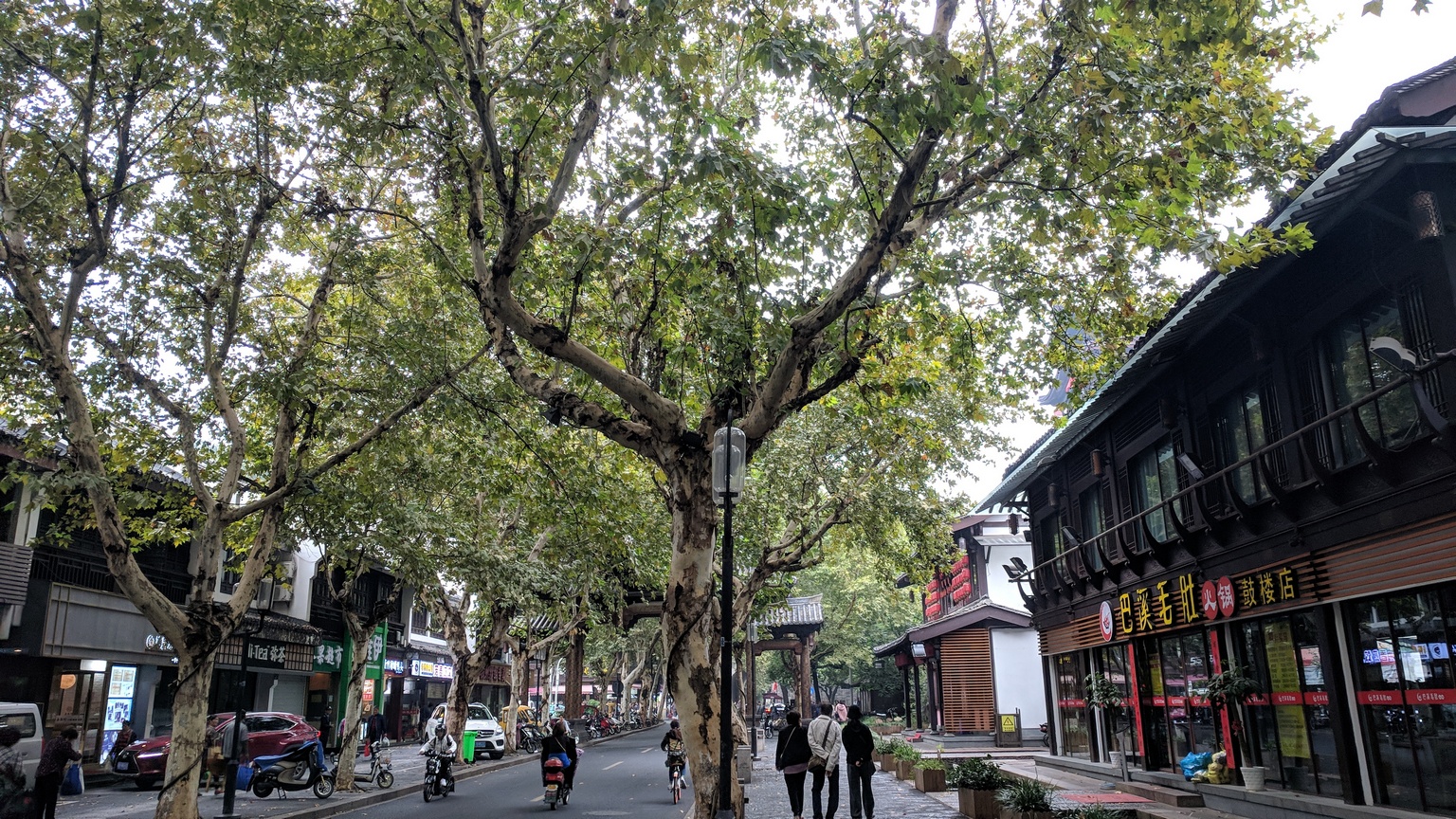 Hangzhou is a busy city in places, but there are lots of very pleasant streets such as this one, lined with sycamore trees. That's Gisele, TaChuan and Angela walking in front of me.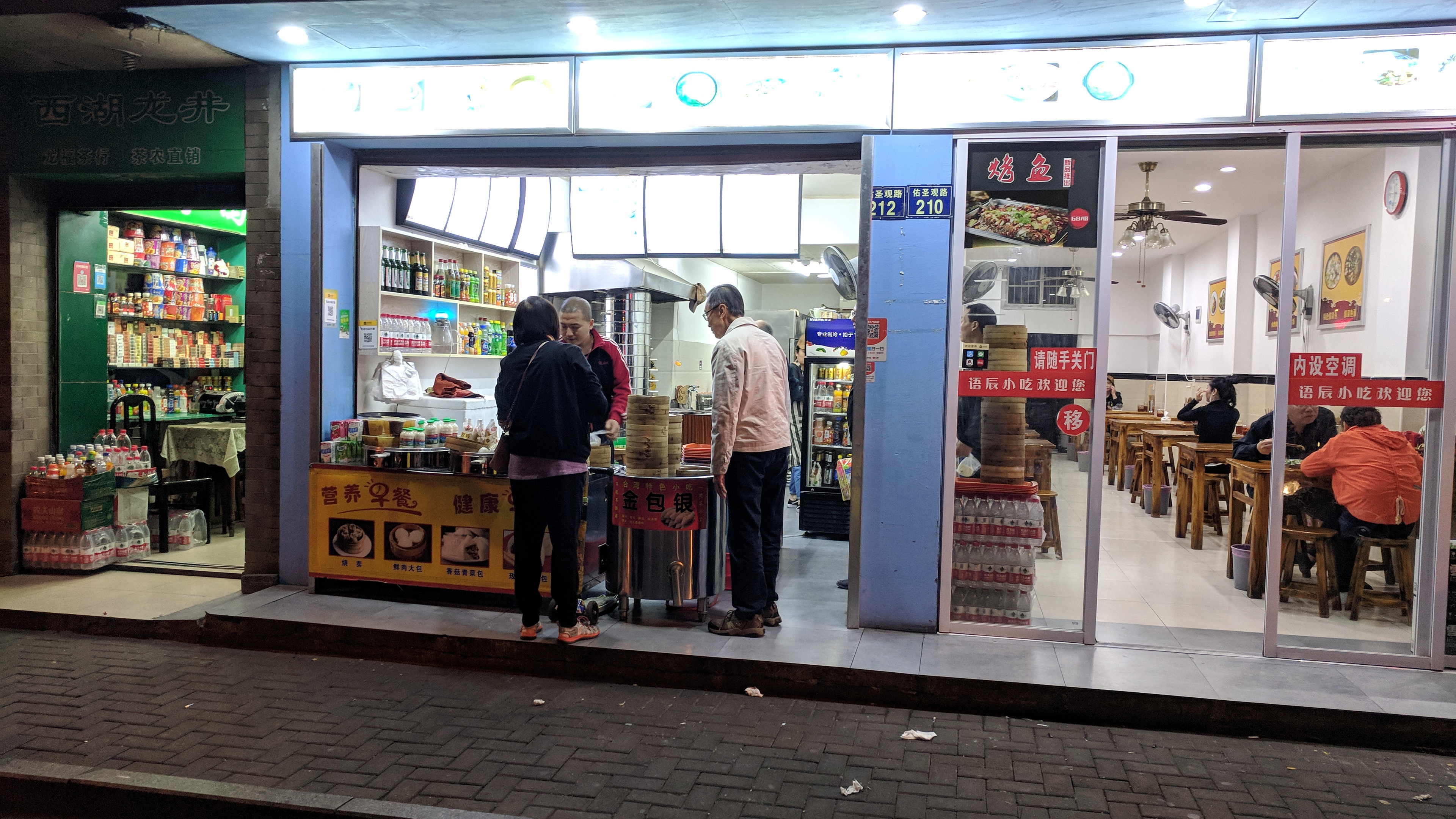 Gisele and TaChuan buying steamed buns at one of countless little shops in the city.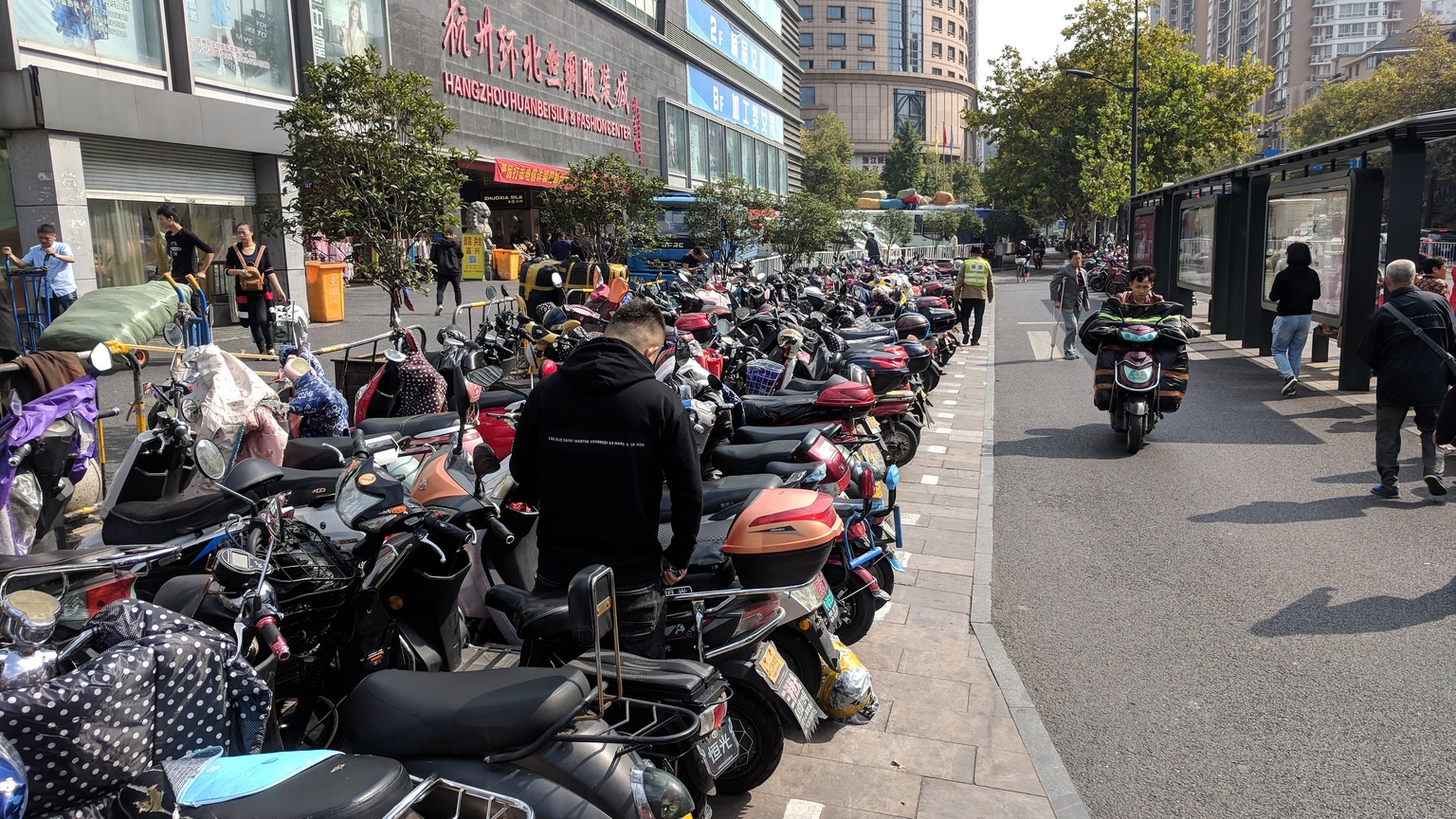 There are more scooters than cars in the city, but in the two weeks we were there we never saw a gas-powered scooter. They are all electric by law. On the one hand it made the air a lot cleaner. But it was dangerous too, as scooters often drive on the sidewalk and you couldn't hear them coming up behind you until they blasted on their horn. Horn use was very common; too common! We were told that batteries gave about 30 – 40 miles of range, and the top speed by law was about 30 mph.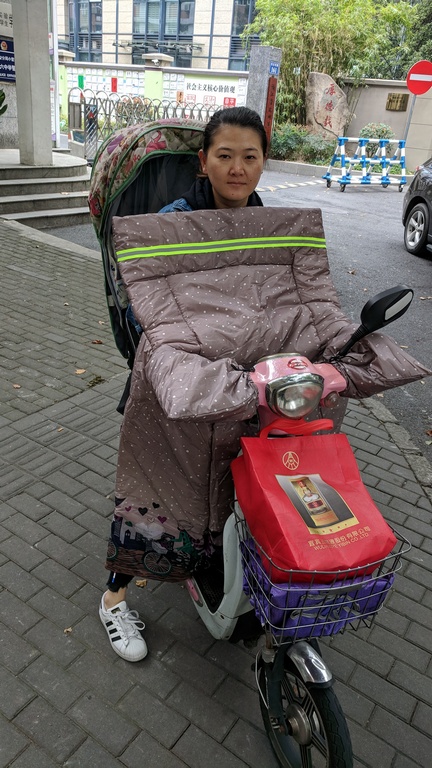 If a scooter is your main mode of transportation, it is nice if you can stay warm in the winter. Many people wear these "scooter jackets" (my name) while riding around. When it rains, they can cover them with a rain coat to keep dry. She may not look too happy, but she gave me permission to take her picture, and actually smiled a little just after I snapped it.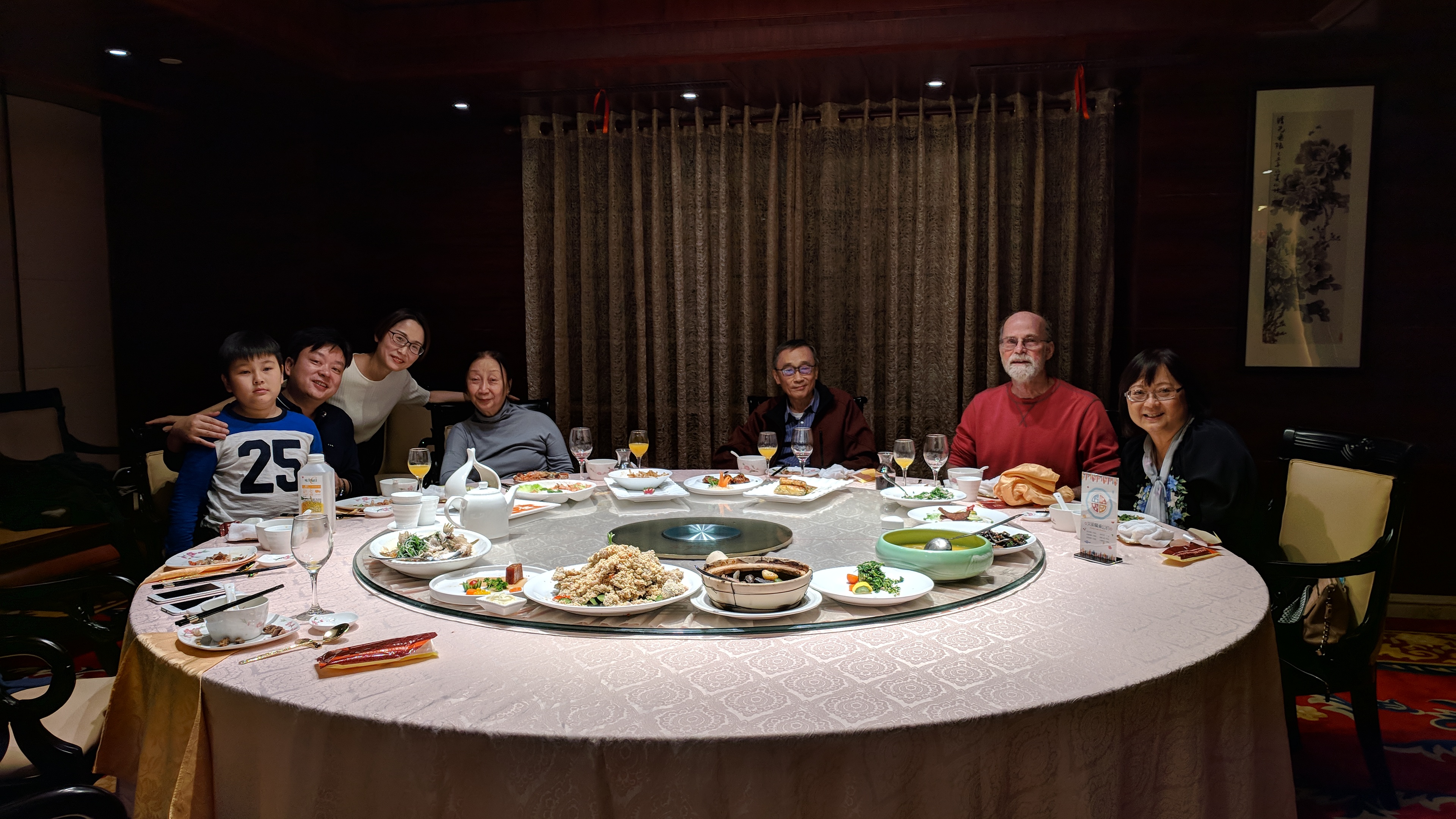 No visit to China is complete without a banquet. Chinese love to eat! The child, man and woman on the left are friends of Angela, and they insisted on treating us to this nice meal. We had a private room and lots more food that we could eat. I ate some of almost everything — there were no duck livers or sea cucumbers on the table.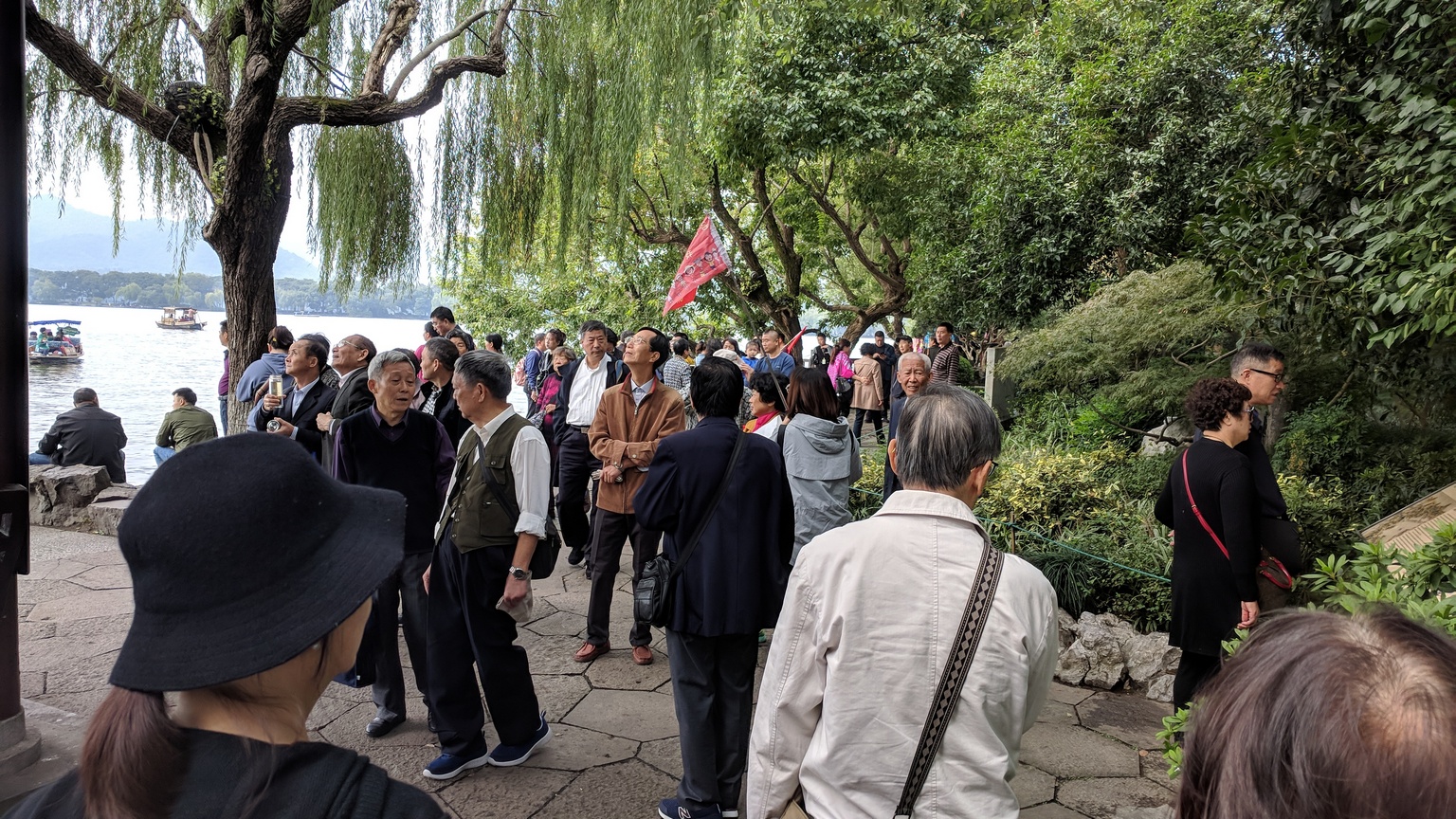 We took a boat ride out to an island in the middle of West Lake. The island itself was beautiful with green, luxuriant vegetation, but the crowds made it almost impossible to enjoy. We walked around to the far side of the island and it was better, but still impossible to be alone. That's a major issue for me when visiting China. There are too many people and as prosperity increases, more and more of them have free time and are traveling.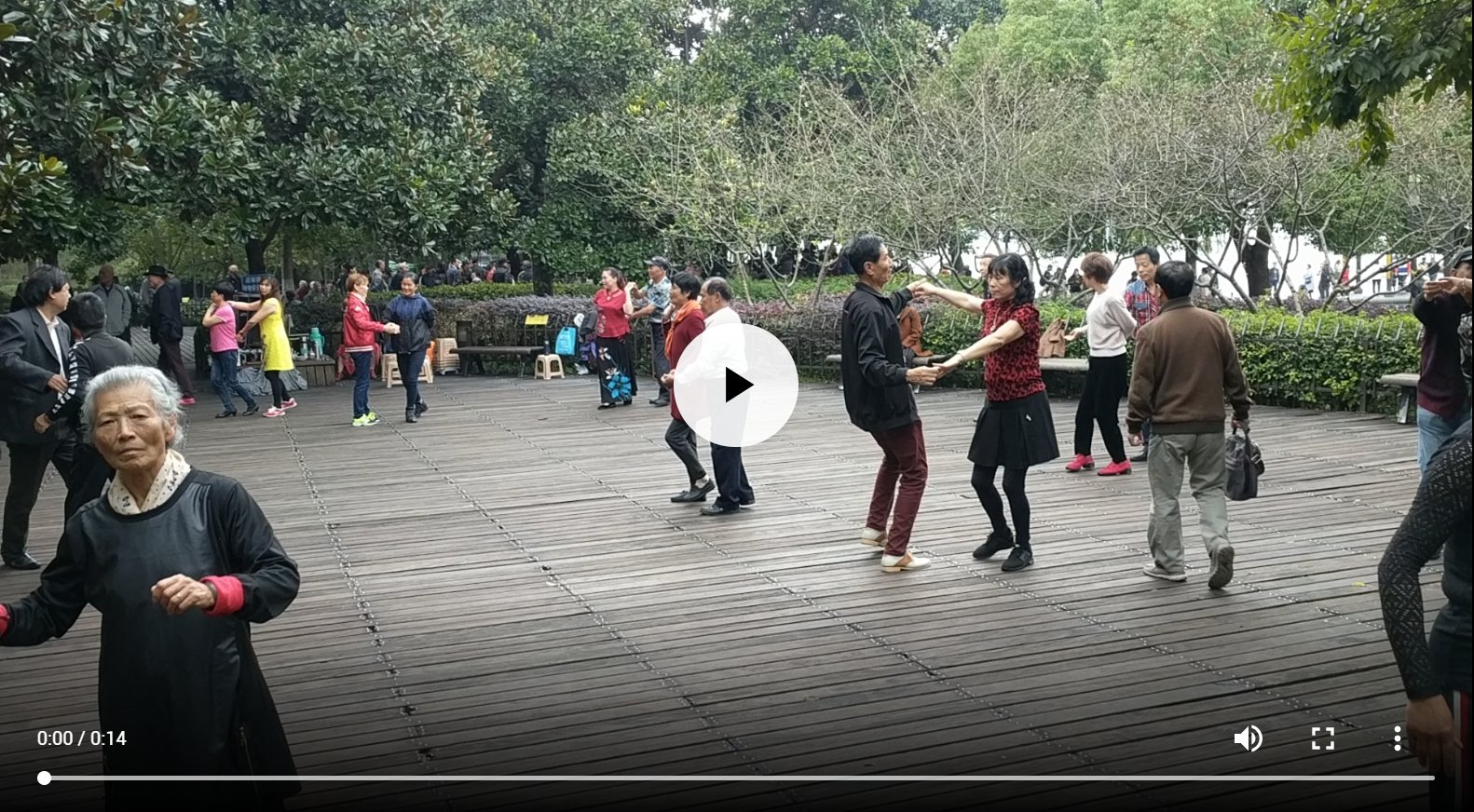 We came across these dancers in the park around West Lake. Notice the cute little lady in the foreground without a partner. Click to play.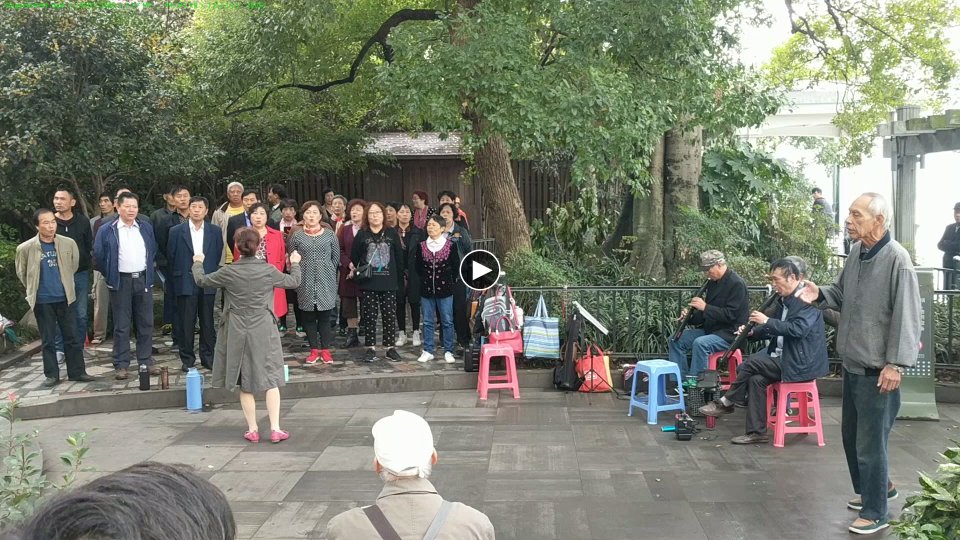 Not far away from the dancers we found this group singing. Sounds like traditional Chinese music. The words were not very political as they would have been 20 years ago, just patriotic. Click to play
It was an interesting trip. Angela has an expression in Chinese that I will try to translate: She prefers to be a "stayist" rather than a "tourist". Meaning, rather than zipping through lots of places on a tour, she would rather stop in one place for a while and get to know it. I can certainly appreciate that. We visited Hangzhou 20 years ago on a zip-through tour, and it is blurred together in my memory with many other Chinese cities. But this time I know it much better and have more feel for what it is like to live there.