When I was in my teens our family spent several vacations at Rocky Point in Mexico. It was a sleepy little Mexican village, and we camped on the beach, either in a trailer that we hauled down there, or in tents, or just on a tarp on the sand. We spent several idyllic weekends there in my youth.
Last week my family went down to Rocky Point again and spent 3 nights. What a difference! There are huge luxury condos up and down the beach. The town doesn't seem much different, with many dirt roads, but it is certainly larger. We stayed on Sandy Beach, while in my teens we camped at Shell Beach. We didn't get a chance to visit Shell Beach, so I don't know how much it has changed there.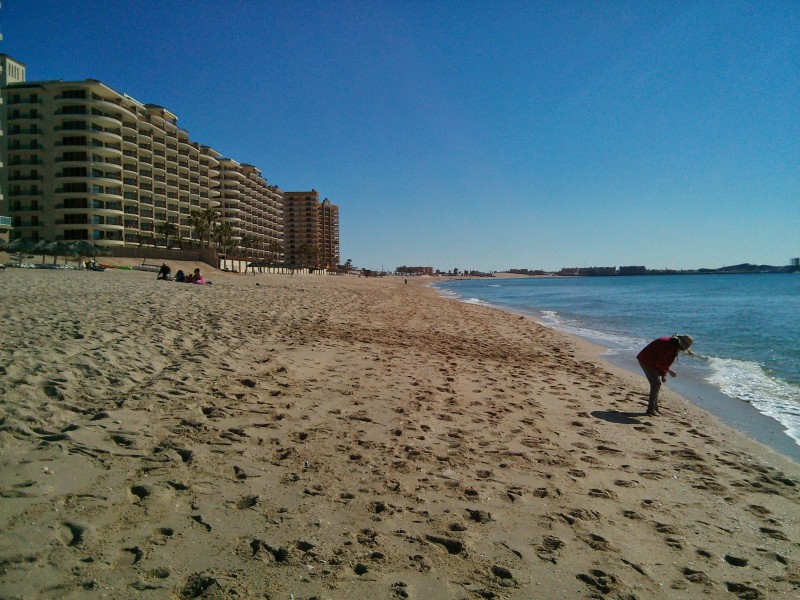 Right in front of our resort. It looks the same in the other direction. That's Gisele looking at sea shells.
The heat wasn't working in the first condo we took (a 3 bedroom/2 bath — about 1600 sq ft) and it was freezing cold. They tried to find us another one that night, but the heat wasn't working in the other ones they tried, so we were stuck. I turned the electric oven on and opened the oven door, put on extra blankets and we slept OK.
The next day they moved us to a nicer condo (3 bedroom/3 bath — about 2000 sq ft) and instead of charging us more they gave us back part of the rent for the first night, so for two nights we got to sleep in a very nice condo on the 7th floor with nice views of the beach.
We chose a particularly cold time to visit the beach, with night time temperatures around freezing, days mid-50s and windy. The boys and I soaked a little in a hot tub, but it wasn't the optimal time for a visit to Rocky Point. On the other hand, the crowds were very thin
I unfortunately brought something home with me, with the resulting diarrhea, head ache, chills and fever (101.1). I don't feel bad-bad, just not very good.