I have a bunion on my left foot. It's a condition where the joint in the big toe is shifted outward, and the rest of the toe points inward. Here's a picture of my feet: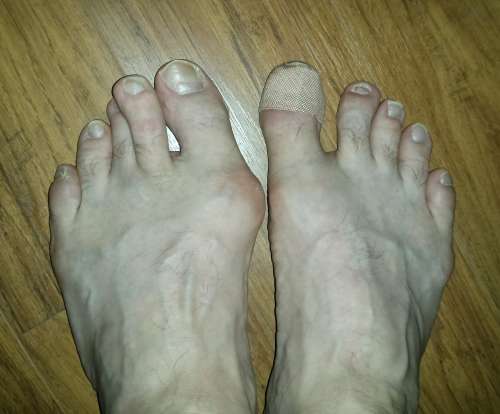 The impact is that the foot is wider at that point, and the bunion presses against the shoe causing pain and inflammation. Another impact in my case is that the second toe is displaced and is riding up over the third toe.
The combined problems bothered me on my recent hike in the Sierra, but with anti-inflammatories the discomfort was under control. But the hike definitely aggravated the condition, and it is now time for surgery.
Bunion surgery is generally very successful. My podiatrist assures me that I will be able to walk the next day, wearing a special shoe. It should take 6-8 weeks to return to normal activities, including sports.
Here's a video clip that shows roughly what will happen, though the specifics of every case is different. They will cut off some of the protruding bone, make some other cuts to change angles, and shift the last segment over, securing it with a pin. Besides the work on the big toe, he will also do some realignment on the second toe.
Surgery is scheduled for the morning of September 16. I'll post a follow-up afterwards.