(So I chose this topic first…?)
The area around Mount Whitney gets so much hiker traffic that it could not withstand the usual human solid waste disposal method of burying 6 inches deep. There would be trenches everywhere and up in the higher elevations the number of rocks make digging a trench almost impossible. So the authorities require that you carry and use a WAG (Waste Alleviation and Gelling) bag. After use, the contents are double bagged and carried with you until you leave the Whitney area.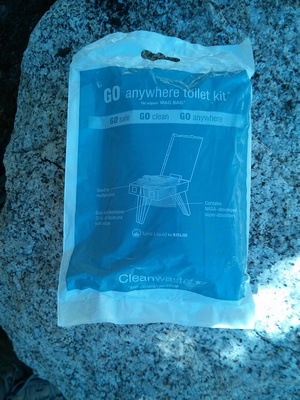 Here's the outside packaging of mine before I used it. Notice that the handy chair shown in the picture doesn't come with it. The actual bag inside is much larger — about like a kitchen garbage bag.
The bag does have chemicals inside that reduce odor, but it still seemed kind of yucky to be carrying it around. There are lots of cheaters, I'm sure, but the park service reports that they collect over 3 tons of human waste every year at the WAG bag disposal stations, so they certainly get used. I guess the cute name helps alleviate some of the yuck factor.