We took a day trip up into the French Alps today to the lovely little town of Chamonix (sha mo nee). From there we took an aerial tram in two stages to the top of a nearby peak, at almost 13,000 feet elevation. It was very cold, with deep snow on the ground. Unfortunately it was also very cloudy and snowing, so we didn't get to see much of the purportedly beautiful scenery.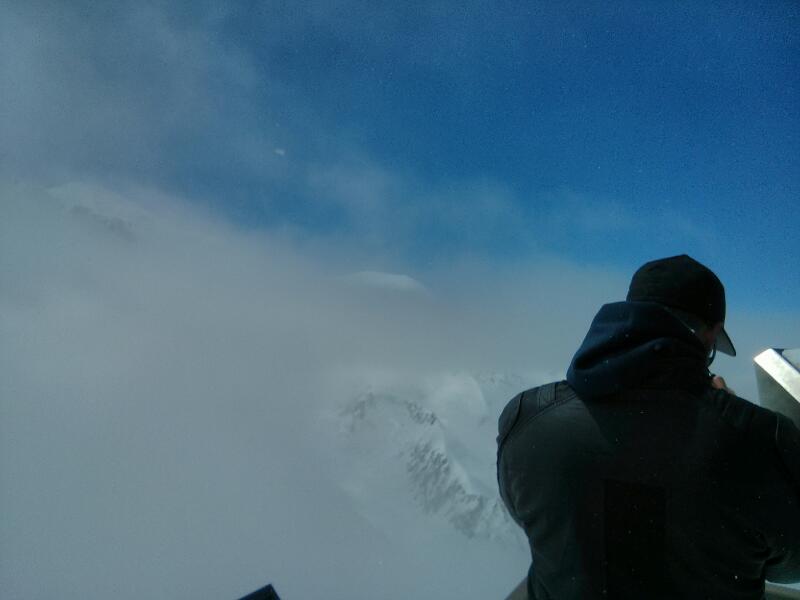 This picture is about as good as it got.
Dale, I was breathing hard just climbing a couple of flights of stairs, so that brings home the need to acclimate before we set out on the John Muir Trail.
It cost us over $200 to rent a van for the day, but divided 6 ways it was cheaper and more convenient than taking the train. I am the only one who can drive a manual transmission, and automatics are rare in Europe, so I'm the designated driver. That's Ok by me.
Tomorrow we take a 5 hour ride on the high speed train to the city of Tours, southwest of Paris.
We are eating very well. The reputation of the French for cooking is well deserved, but we are paying between $20 and $30 per meal, except breakfast, which comes in closer to $10. At least we don't have to add tip or tax on that – it's all included in the price.