Last week Richard, Dale and I did a short overnight backpacking trip in Roger's Canyon in the Superstition mountains.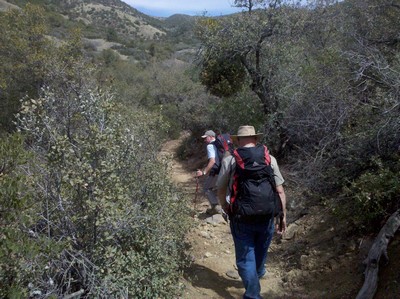 We started at about 4800 feet elevation, hiked about 5 miles down into the Canyon to about 3500 feet.
There are lots of oak trees along the trail, with some cottonwoods near the streams. There was lots of water flowing, so fortunately we didn't have to take much with us.
One of the most interesting features of this canyon are the abandoned Indian Cliff Dwellings. They were occupied about 600 years ago, and show some wear from the years, though they probably look better than my house will in 600 years. There are three main caves, with the most interesting one a little difficult to get to. Not extremely exciting, or complex, nevertheless it was interesting to see them up close.
We camped under cottonwoods, and built a huge fire that night. Richard and Dale slept in tents, while I slept under the full moon. It got a little chilly in the morning (around 40 degrees), but we all managed to keep warm. The fire that Dale rebuilt made it easier to get out of bed.
The hike out the next day was harder than the hike in. We met about 25 boy scouts coming in as we went out, so we were thankful that we hadn't delayed our trip by a day. I don't think it would have been so peaceful!
You can see more pictures at my gallery.