Actually, I'm a day late — "Loving Day" was yesterday, June 12. It was the 50th anniversary of the Supreme Court decision in the case of "Loving vs. Virginia" that ruled inter-racial marriages legal in all states.
If Gisele and I had come back to Arizona from Taiwan before 1962, our marriage would have been declared illegal. It was that recent that Arizona finally abolished its miscegenation law, but several other states (all southern) still had such laws in place until the Supreme Court's decision on June 12, 1967.
In Arizona before 1962*, marriage between Whites and anyone even partially Black or Asian was illegal. In fact, the law even prohibited anyone of mixed race from marrying anyone else at all.
A mixed race (Black-White) couple, Richard and Mildred Loving "had married in Washington, D.C. to evade Virginia's anti-miscegenation law (the Racial Integrity Act). Having returned to Virginia, they were arrested in their bedroom for living together as an interracial couple."*
The Lovings went to court, but a Virginia judge denied their case, stating, "Almighty God created the races white, black, yellow, Malay, and red, and placed them on separate continents, and but for the interference with his arrangement there would be no cause for such marriages. The fact that he separated the races shows that he did not intend the races to mix."*
(Sounds a lot like the arguments against same-sex marriage, doesn't it?)
The Lovings took the case all the way to the Supreme Court, where they finally won.
According to Pew Research, in 2015 17% of marriages were between different races, vs. 3% in 1967. Young people are much more accepting than their elders, with 88% of young white people accepting, vs only 36% of white seniors.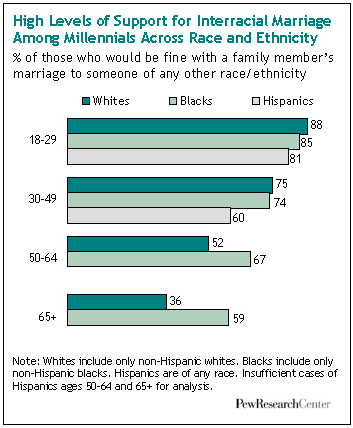 The incidence of interracial marriage varies a lot by race and sex, as seen in the following graphic, also from Pew: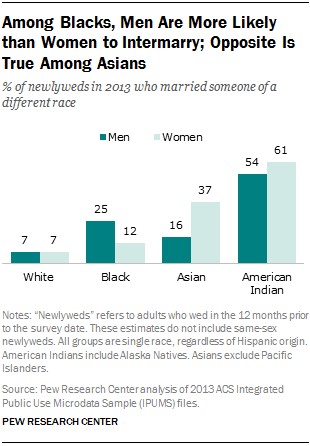 which matches my experience: it's more common to see a black man and white woman vs. the other way around, and likewise a white man with an Asian woman.
I think most people, especially young people, see this as an ongoing trend towards openness and acceptance, but there are still large pockets of mostly older people who see it as a slide into immorality and depravity. All I know is that I can't imagine being in a better marriage than my own, interracial or otherwise, and there is nothing depraved about our love for each other.