Surgery went well yesterday, though about two hours behind schedule. We got home about 5:00pm.
I had a total nerve block on the right shoulder from neck to finger tips. My arm was literally like a numb, wet noodle, just lying there in the sling. The greatest force of concentration could not get the slightest motion from finger, wrist or elbow.
I slept pretty well in a recliner. The doctor warned me to take pain pills before I went to bed in case the block wore off in the night. It didn't. This morning when I got up it was still numb, but I was able to move the fingers slightly.
By mid-day full feeling was pretty much back, and it hurt. Two 7.5 Percocets cut the edge, but it was still there.
Now this evening it feels quite a bit better, but I think it's about time for another pain pill.
Here's an x-ray taken while I was still in the OR.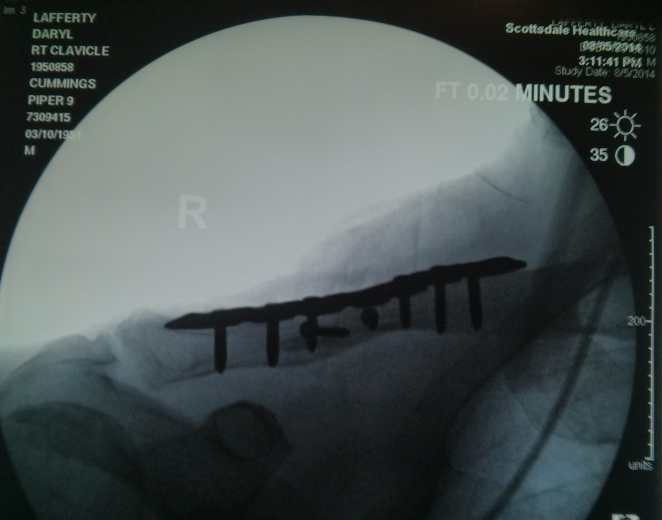 Doc says about 4 weeks in the sling and about 12 weeks to resume sports. There may be some physical therapy in there to ensure I maintain full range of motion and don't lose strength.
I asked him if the plate on top of my collarbone is going to bother me when backpacking. He said for some it does, for others not. But if it does it's a simple procedure to remove the plate once the bone has set. We'll see.