Dale has been hiking the Appalachian trail since April 2nd for over 1700 miles, from Georgia to New England. Last week I joined him for a brief 5 day, 67-mile stroll through part of Vermont and New Hampshire. When I compare on a map how far he has come with the distance I accompanied him, it is nothing, a comma in the middle of a long sentence, a sentence he is continuing to write without me.
I flew into Lebanon, New Hampshire on a little 10 passenger Cessna, spent the night in a motel, and the next morning hired a shuttle to take me over the border into Vermont where the trail crossed the highway and Castaway was waiting for me. And off we went into the woods.
The first day we hiked mostly alone, with me frequently leading and setting the pace. No fear of Dale not keeping up with me.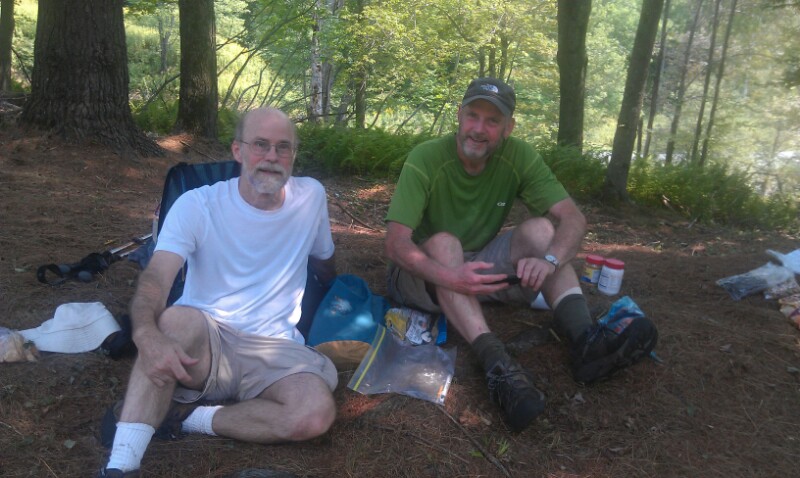 Later in the day we met up with other hikers that Castaway had hiked with before — Kleenex, GoMan, and Bad Penny. The Appalachian Trail is not a wilderness experience, at least not the way we think of wilderness out west. It is common to cross a road or pass by a farm house. Towns are frequent, and it's common to eat in delis and spend the occasional night in a motel. That first night I bought a Philly cheese steak, and we pitched our tents in the back yard of a "Trail Angel". Trail Angels are people along the trail who do helpful things for hikers, such as leaving Trail Magic (candy, Coke, fruit, etc.) for hikers to take, or providing them a place to stay or giving free rides to town, that kind of thing. In the 5 days I hiked, we met at least 4 trail angels, though Dale said that was a little more than usual.
On the second day we saw Kleenex stopped by the trail ahead talking with a woman. The woman was offering a free lunch in return for stacking wood, an offer that we accepted and expanded to include a shower and laundry.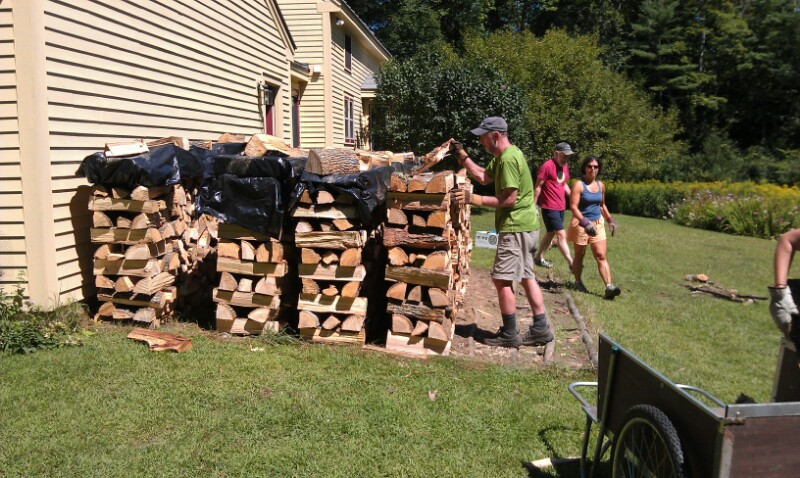 On that same second day I kept tightening the laces on my boot without really looking closely, until I saw with shock that there was a two-inch separated seam in my boot, gaping more than a half inch wide. Clearly I couldn't expect many more miles out of these boots. Fortunately the AT passes down the main street of Hanover, New Hampshire and there had to be an outfitter in a town like that. There was, but… I saw a nice rack on the wall with about 10 sample boots. "I want one that will be easiest to break in." "Oh, this one is perfect, but… we don't have any in stock." Nor did they have the next best one. The third easiest to break in — they had them in stock, but not in my size. And so it went, until I ended up with a $140 pair of Vasque boots. Nice boots, but not what I would have chosen nor what they should have cost. Fortunately they were pretty comfortable and didn't give me any blisters on the following days.

Castaway, Kleenex and Bad Penny at the Vermont-New Hampshire border.
The next day we ran into the Troverts, X-Trovert and N-Trovert, a retired couple who had started in Georgia about a week after Castaway, though Castaway had hiked with them before and knew them well. Kleenex was especially delighted to see them, since it meant another woman to hike and chat with. We all ended up hiking together the rest of the days I was there.
So there I was, fresh from the city, suddenly thrown in with a herd of seasoned hikers who had already walked – marched – over 1700 miles in the past 4 months.
One motto of the AT is that everyone should hike their own hike, meaning that you walk at your own pace, for as long each day as you like. But we were with a group that Dale had hiked with before and he wanted to stay with them, especially through the formidable White Mountains. So falling behind really wasn't an option. I had stayed in shape by playing basketball, but I quickly realized there are three main differences between basketball and hiking: the basketball court is flat, you don't carry 30 pounds on your back, and you don't play basketball for 8-12 hours a day, day after day. Those three differences are significant.
After struggling up steep hill after hill, watching the back of a 65 year old man, N-trovert, disappear into the trees in front and almost have to run on the flats to try to catch up, I was ready for bed in the evenings. Dale stayed with me most of the way, though a couple of times he had to stretch his legs and almost run up the mountain, where I would find him waiting for me at the top, all rested and ready to go again.
We camped in the back yard of another Trail Angel near Lyme, New Hampshire. Bill was an 84 year old retired psychiatry professor from Harvard Medical School who lived next to the trail and loved to meet and treat hikers.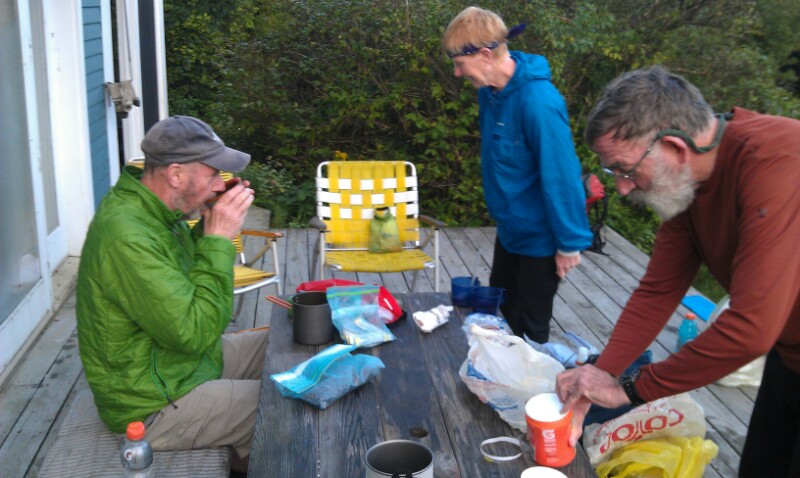 The Troverts and Castaway in Bill's back yard.
It wasn't all delis and back yards. There were nights in the woods and meals cooked over camp stoves too. The New Hampshire mountains are rugged and beautiful, and there were many hours of pleasant chatting with Castaway or silently contemplating the quiet of the forest, or just losing myself in my thoughts.
On the fifth day we stopped for lunch at a deli, and I ordered a hamburger. I wasn't expecting the greasy one pound monster burger they put on my plate, but I gamely ate it all. That was a big mistake. I immediately felt queasy, and within a couple of hours I was glued to the toilet. I'm so glad we spent that night camped behind a hostel with a flush toilet. A few doses of Imodium and things were settling down, but I still wasn't in any shape to hike the next day, so they went on without me.
Kleenex's sister was helping them shuttle their packs and took me to the next town where I met them that evening for the last night.
And today they left early in the morning to go climb a couple more mountains on their journey to their final destination in Maine, less than 400 miles away now.
I have known he was out there hiking, and have heard the names he mentioned. But now I have a little feel for what it's like, and can put faces to the names Kleenex, Troverts, Bad Penny, Tall Oaf, Go Man, Loner, Tarzan and Jane, and many others. What an adventure he is on, and will remember all his life.
I envy him, and doubt that I could do it. Only about 10% of those who start actually finish. I was so struck with their determination and persistence, traits you would have to have to complete something like this.
My hat is off to all of them.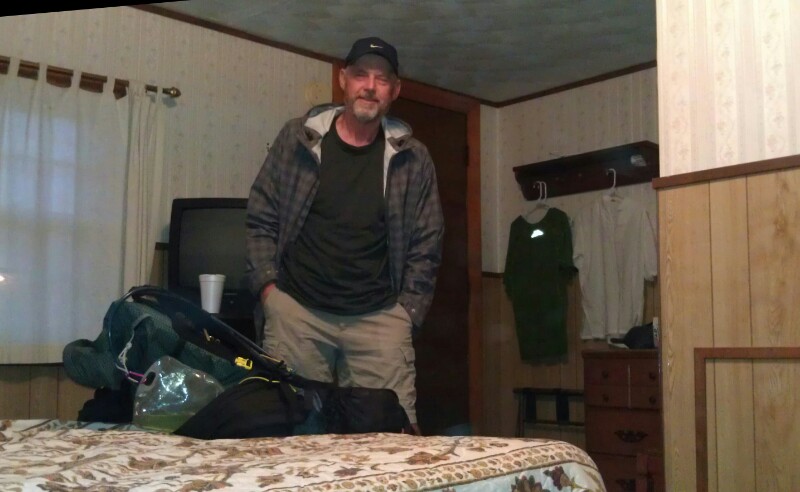 Taken from my motel bed on the last morning.