Gisele got a new car to replace her 2003 Honda Accord.
After more than 2 weeks of researching and test driving, we decided on a 2012 Hyundai Sonata. We got all the cool options, including navigation. It is only a 2.0 liter 4 cylinder, but turbocharged and delivers 274 HP, more than most V6 engines. It is very peppy, but gives over 34 MPG highway.
She originally planned to get another Honda Accord, but they have fallen in the ratings. The Sonata beats the Accord, Altima and Camry in most reviews and in owner satisfaction. My brother Don agrees, as he has owned a Sonata for a few years and is very happy with it.
One of the cool features is a smart phone app that will let you remotely lock, unlock, flash headlights and sound the horn (to find it in a parking lot), and (coming soon) remote start. The remote start is not available yet, but rumors are that it should be out in January.
You can also locate the car on a map, and if you lend it to your teenager it will report back if they exceed a set speed or go outside a set range. Of course, we don't have any teenagers, but still a cool feature.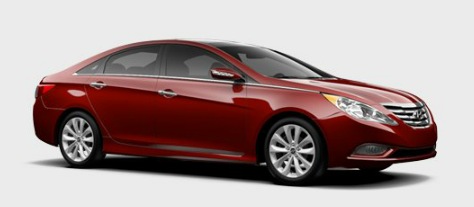 Here it is in all its red beauty.