I arrive in Copenhagen about 1:30 this afternoon. As I entered baggage claim, Gisele ran up and gave me a hug — she had arrived from Paris only about a half-hour earlier.
We took a taxi to the hotel, checked in, and went off on a walking tour of the city.
It's a beautiful city, with a mixture of old and new. Nothing as old as you see in France — no thousand-year old cathedrals, or at least we didn't see any.
There are lots of bicycles, but not like in China where that's all people can afford. Here you get the feeling that people like to ride bikes because of the convenience and to enjoy the beautiful weather. It was about 70 degrees this afternoon with a pleasant cool breeze. And the bikes are almost never locked to anything. Usually they have simple spoke locks that prevent the bike from being ridden away, but in most US cities that wouldn't last long, as teh whole bike would be tossed into a pickup truck. That doesn't seem to happen here,
Restaurants are very expensive. A typical dinner would cost $50 per person, plus a 25% national tax on restaurant meals, so over $60. We managed to find a "cheap" place and had dinner for about $25 each. Fortunately we will be eating on the cruise ship for most of the rest of our meals.
We board the ship tomorrow afternoon.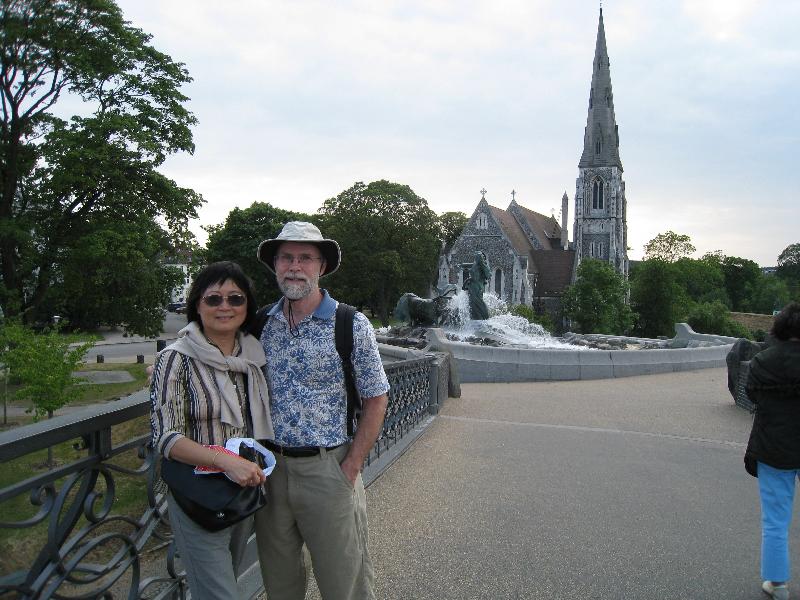 Here we are in front of a cool statue/fountain.